ServiceService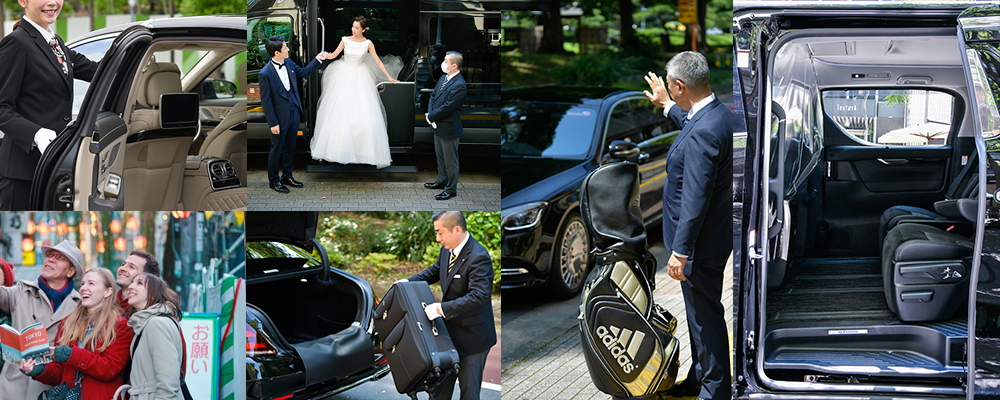 Example Uses
Executive Vehicles/Driver DispatchWe focus on the education and training of our drivers from the hiring stage.

Airport TransferFor passengers from overseas, we can arrange for a crew member who can speak foreign languages.
Haneda Airport: from 18,910 yen
Narita Airport: from 31,110 yen
Our travel department also offers discounted package deals.

Sightseeing UseFrom regular use to sightseeing in Tokyo and transportation to sightseeing spots and inns by a crew that has passed the national interpreter guide exam.
Example: Mt. Fuji and Hakone sightseeing 12 hours from 66,540 yen

Business UseA wide variety of vehicle types and trained crews are available to support your important business needs.
Medium sedan, 1 hour: 6,040 yen, additional: 2,750 yen
*Additions are made every 30 minutes.

Golf TransportationWe offer a variety of discounted golf packages.
12 hours /200km use from 59,400yen

Wedding and Funeral ServicesIn addition to safe operation, we will treat you to a special occasion with attentive service.
Example of use: Alphard, 1 hour: 8,050 yen, additional: 3,660 yen
*Additions fees are applied every 30 minutes.
Hinomaru Limousine is available for spot use, whether you wish to use it for a day or a few hours.
If you would like us to dispatch an executive car or driver, please contact us using the contact us page.
Click here for more information on airport transportation or golf use or other reservation services..
Please feel free to contact us for other services not listed above.
Hinomaru Limousine has many English-speaking drivers and conducts daily English education.
All of our cars are equipped with free WIFI, and we can provide child seats, step ladders, etc. upon request.
Please feel free to ask us about routes, departure times, and crew assignments.
Countermeasures against novel coronavirus
Hinomaru Limousine is taking the following measures to prevent the spread of the novel coronavirus.
• All employees wear masks
• Employee gargling and hand washing
• Temperature checking and alcohol disinfection on arrival at work
• Promoting working from home, staggered work hours, and rotating work schedules
• Commuting by private car for some crew members
• Increasing the number of air purifiers in the office and spray disinfectant
• All crew members wearing gloves
• Installation of curtains to prevent droplet infection in cars
• Thorough interior ventilation
• Disinfecting the interiors of cars with disinfectant for each booking
All Hinomaru Limousine vehicles have been coated with NANOZONE COAT photocatalyst. This coating is a bactericidal, antibacterial, and antiviral coating that uses titanium oxide, which is harmless to the human body, as a photocatalyst. While conventional photocatalyst only reacts to specific ultraviolet rays, this coating reacts to a wide range of visible rays to produce active oxygen, and its oxidizing power removes organic compounds, bacteria, and other harmful substances on contact.
NANOZONE COAT photocatalytic coating can be applied to the interior of your car.
NANOZONE COAT photocatalytic coating is harmless to human body and effective on all surfaces except iron.
If you are interested in more information, please feel free to contact us.
Hinomaru Limousine asks all passengers to wear a mask. Thank you for your understanding and cooperation.
Limo Tokyo Travel Center

Limo Tokyo Travel Center, the travel division of Hinomaru Limousine, offers great package deals.